Welcome to Brooktree Homes
Brooktree Homes Inc. has been building quality homes in Sarnia and surrounding area since 1987.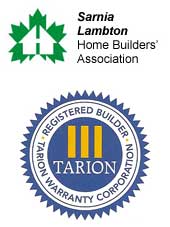 Owned and operated by Frank Durco Jr., Brooktree Homes can be trusted to build your home with the utmost attention to detail and customer service.
Frank has deep roots in the Sarnia area, where his father (Frank Sr. of Durco Construction) also enjoyed great success in the building industry for 35 years. Frank Jr has partnered with his father in land developing to create subdivisions such as Stoney Creek in Bright's Grove, St. Clair Heights in Corunna and the latest and current development is Blackwell Glen Subdivision on Blackwell SideRoad in Sarnia where Frank Jr. has built over 100 homes, and is also building in Camlachie, in the new development of Errol Woods Inc. on the south west corner of Egremont and Fleming and soon starting a new phase of St. Clair Heights in Corunna.

Frank Jr. has been actively involved in the Sarnia Lambton Home Builder's Association for many years as President and currently serves on the Executive and also supports many sports teams in the Sarnia area